Landscaping is an integral part of most homes, especially in Arizona. With many different options available to homeowners, choosing the proper landscaping for your home can be challenging. If you're looking for some help deciding what type of landscaping will look best with your property, then you have come to the right place! This blog post will cover all of the different Arizona backyard landscaping ideas and how they can affect your curb appeal.
Consider xeriscaping your yard
Xeriscaping is a landscaping option that is great for anybody in Arizona. This type of landscaping focuses on selecting plants and materials native to the area with a low water requirement. Xeriscaped yards can be beautiful, but it's important to remember that they will require more maintenance than a traditional yard with grass and shrubs. On the bright side, you can save a lot of money on your water bill by xeriscaping your yard!
Install a desert landscape
Arizona has a tough climate. In order to survive here, plants need to be incredibly water efficient. When homeowners fill their yards with non-native plants, they require constant watering to survive. If you're looking for an easy way to make your home look more like it belongs in Arizona, then consider the installation of a desert landscape. This is characterized by the use of rocks, cacti, and gravel. It's an excellent option for somebody that wants to have their yard look beautiful but doesn't want to spend time maintaining it with watering and pruning.
Build your own backyard oasis
The landscaping ideas below are perfect if you're looking for something more unique or exciting than the typical xeriscaping or desert backyard landscaping ideas. Building your own backyard oasis is a great way to show off your personality and create a space that you can relax in. There are many different ways of creating an oasis in your yard, so be sure to do some research before getting started!
Add plants that will attract butterflies and other pollinators
One great idea is adding plants that will attract butterflies and other pollinators. Pollinators such as bees, hummingbirds, and birds are vital for our planet's ecosystem. They also happen to be responsible for many different types of food products, including fruits and vegetables! If you want to help out these wonderful creatures, then be sure to add some plants that will attract them to your yard.
Use rocks and other natural materials to create landscaping features
Rocks and other natural materials can be used to create many different types of Arizona backyard landscaping features. This is an excellent option if you want your yard to look more like a nature preserve or park. You can use rocks, logs, and even waterfalls to create an exciting and eye-catching Arizona landscape. Just be sure to pick the right plants and trees to go with whatever features you decide to include!
Consider adding a pergola or arbor to your yard
A pergola or arbor can be a terrific addition to any yard. Not only do they add some extra shade and privacy, but they can create an interesting focal point in your landscape. If you're looking for something a little more unique than a traditional patio or deck, then consider adding one of these structures to your yard.
Add a fire pit or outdoor fireplace to your yard
A fire pit or outdoor fireplace can be an amazing addition to any backyard. Not only are they great for barbecues, but they also provide heat and light when the sun goes down! You must pay attention to safety, though, because these structures may require permits depending on how close they are to your house.
What are the benefits of landscaping?
While professional Arizona backyard landscaping will set you back more than a couple of dollars, it also offers several advantages for your lawn. Some of these include:
Improves curb appeal
A well-planned landscape design can improve the aesthetic appeal of your home and result in a dream backyard space. This can increase the value of your property and outdoor space, helping you sell it faster should you choose to move in the future.
Maintains a healthy environment by reducing water usage
Xeriscaping is a landscaping option that uses desert plants to create landscapes that require little or no irrigation once they are established, just like artificial grass. This can save homeowners money on their water bills and is a great way to help conserve this precious resource.
Creates shade and shelter from the sun
Landscaping can provide relief from direct sunlight, which is important for keeping your home cool during the hot summer months. It can also provide much-needed shade for pets and children who like to play outdoors.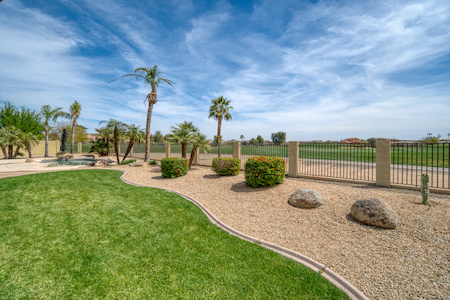 Boosts property value
As we mentioned before, Arizona backyard landscaping can significantly increase the value of your property. By hiring a landscape professional to take care of your lawn, you can ensure that your home looks its best and is more likely to sell quickly if you ever decide to put it on the market.
Bottom Line
These are just a few of the many different Arizona backyard landscaping ideas available for people living in Arizona. Be sure to do some research and find the best new backyard design for you!
Call MasterAZscapes!
As your local professional landscaper in Phoenix, we have experience in the landscaping business going back to 1986. When it comes to finding a landscaper in Phoenix, homeowners want a solution that meets their needs, and our business is built to intuitively serve those needs. We work with you to identify your ideals, habits, and style in creating landscaping that is as functional as it is beautifully suited to your unique flair. Our skilled landscapers work with lush grass, artificial turf, desert scaping, fire features, retaining walls, shade structures, outdoor kitchens, and more. We are an experienced contractor who can handle the limitless possibilities for Phoenix landscaping. Make it happen with MasterAZscapes LLC.