Turf is the perfect option for people looking to improve their landscape. It gets rid of all the hassle that comes with maintaining a lawn, and it's beautiful! Turf can be installed in virtually any size or shape you want, making it great for residential and commercial properties. This post will walk through some of the benefits of installing turf and provide helpful tips on how to make sure your installation goes smoothly. Let's get started!
What is Turf?
Turf is synthetic grass made to look and feel like natural grass. You can install it using either blades or rolls and use it on both residential and commercial properties.
The Benefits of Installing Artificial Turf
There are many benefits to installing turf in your landscape. Some of them include:
It is an environmentally friendly option 
One of the biggest reasons homeowners look for an alternative to a natural lawn is its environmental impact. Lawns require a lot of water, harsh chemicals or toxic materials for fertilizer, and routine maintenance, which can be costly and harmful to the environment. On the other hand, artificial turf involves none of these things, making them more sustainable lawn alternatives without the use of harmful chemicals.
It is low-maintenance
Synthetic grass does not need to be mowed or cut. It is designed to look beautiful all of the time, and there's no need to keep on adjusting its look. This will save you a lot of time and money in the long run and ensure your lawn looks excellent all year long for many years to come.
It comes in different varieties and styles
Turf is available in both blades and rolls, which you can install together to create a natural look or use separately for more defined edges. There are also different colors and textures of artificial turf available to choose from so that your yard will be unique! You must pick the right kind of artificial grass for your needs, so be sure to read our helpful tips below before you start.
It is pet-friendly
Turf is soft and comfortable, making it perfect for pets. It will also help keep your home clean by reducing the amount of dirt and mud your pet brings inside. This is an excellent option for people who have allergies or asthma and want to keep their homes as dust-free as possible.
It is kid-friendly
Just like with pets, a synthetic turf is a perfect option for children. It's soft and comfortable, making it great for playing sports on! It also means that if you have kids of your own or even need artificial turf at a local daycare center, this product will be the right choice.
It lasts longer than traditional grass
Synthetic turf can last anywhere from 15-20 years or more with proper care and maintenance. Traditional lawns only last about three months before they get ruined by harsh weather conditions. This means that artificial grass is a great option for people who live in areas with cold or wet seasons, as it will still look beautiful even when traditional grass won't!
It doesn't need watering constantly
Because turf does not require constant watering and fertilizing, you can save money on your water bill every month. You will only need to water your artificial turf if you want to rinse it off any dirt etc.
Professional vs. DIY Turf Installation 
When it comes to turf installation, it's best to leave it to professionals. Not only is installing turf a huge hassle, but it can also be very expensive if you don't do it right. You could end up with an uneven surface, or worse, a lawn that doesn't look natural at all. Hiring a professional will ensure that your turf is installed correctly the first time, and provide a look that you will be proud to show off.
Here are a few other benefits to hiring a professional turf installation service:
-Faster project completion
– Have the proper tools and experience
– Can provide maintenance and care advice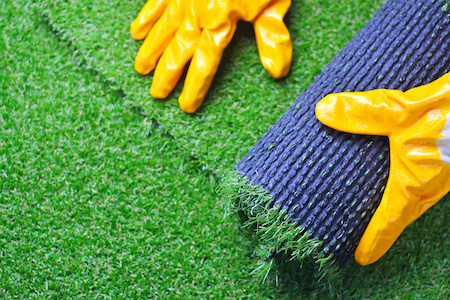 How much does turf installation cost?
Synthetic lawn installation will depend on the size of your yard and the type of artificial turf you choose. Generally, most landscapers charge per square foot for installation costs.
Should I install artificial turf?
Turf is a great option that will save you time, money, and energy. While traditional grass has its benefits, artificial turf can last for many years with little lawn care required from the homeowner! If you're looking to have an easy-to-maintain landscape or want something comfortable for your pets and children to play on, it is worth considering installing artificial turf grass in your yard.
Give Us a Call!
If you're thinking of upgrading your traditional lawn, contact MasterAZscapes today! We would be happy to help you choose the right type of turf for your needs and answer any questions about the installation process. Call us for a free quotation and we'll be happy to help you choose the perfect Artificial Turf for you!