Spring Is Coming To Scottsdale!
It's the time of year here again in Arizona where everyone is getting their yards summer-ready. Due to the arid climate here, landscaping can be a challenge. However, don't worry. There are plenty of drought-resistant plants that can bring color and texture to your yard without racking up tons of costs in water bills. This list of drought-resistant shrubs is one of our most popular blogs. We've added a few more drought-resistant plants for you to consider this year when you want to add a new plant or two to your yard this year!
15 Drought-Resistant Plants For Your Arizona Backyard
Shrubs are a great addition to any landscape due to their naturally aesthetically-pleasing shape and the fact that they don't require much pruning. Here are a few options to beautify your yard this spring and summer without adding too much maintenance.
1. Arizona Rosewood
Arizona rosewood is an excellent option for homeowners who love the look of oleander but want to keep their yard landscaped with native Arizona plants. Arizona rosewood is a slow-growing evergreen shrub that looks like a small tree. At a mature height of 10 feet, Arizona rosewood requires little water and does well in both full and partial sun. The shrub blooms clusters of white flowers in the summer.
2. Baja Fairy Duster
If you're looking for a burst of color in your yard, consider planting a Baja fairy duster shrub. The plant attracts birds, hummingbirds, and butterflies and blooms in the spring and fall with red powderpuff flowers. There are no shrubs, and it's rabbit resistant!
3. Bee Brush
A bee brush shrub attracts butterflies and other pollinators while giving your yard a burst of color in the spring and fall. The flowers range in color from white to pale purple. The shrub does have tiny thorns, though, so it's not a great option for areas where small children or animals will be able to access it. Bee brush shrubs require very little water, making them perfect for yards here in Paradise Valley!
4. Brittlebush
If you're looking to attract birds to your yard this spring, consider planting brittlebush. The bright yellow flowers in the winter and spring look like tiny daisies and attract wildlife while giving your yard some color during the winter. The plant is native to Arizona and pool-friendly while requiring very little water to thrive.
5. Chuparosa
Chuparosa shrubs work well for homeowners looking to create an informal "hedge" in their yard. At four feet tall, chuparosa shrubs do well in full sun and attract wildlife to the backyard, including hummingbirds and other pollinators. The shrub flowers orange and red tubular flowers during the winter and spring, though some variations have yellow flowers. The chuparosa shrub is native to Arizona and rabbit-resistant.
6. Desert Lavender
Who said you can't have a colorful garden in the desert? Desert lavender is a native shrub with fragrant, beautiful purple foliage. The flowers bloom in spring, and there are no thorns and very low litter. The bush attracts wildlife such as birds and bees, and you'll undoubtedly be pleased with the added color to your yard next winter.
7. Flame Honeysuckle
Native to the Chihuahuan Desert, flame honeysuckle is a hardy shrub that does well in full sun. The plant flowers in the summer and fall, adding bright orange and red tubular flowers to your yard's landscape. The shrub does well in full sun and is incredibly hardy; even those low temperatures on cold winter nights won't bother it. Flame honeysuckle requires very little water and grows at a moderate speed, making it a low-maintenance plant for your very own desert landscape.
8. Hop Bush
Another excellent option for oleander-lovers is a native plant known as the hop bush. It does well in full and partial sun while requiring very little water. Hop bushes can reach up to ten feet tall at maturation. The hop bush flowers in the spring with nonshowy yellow-green flowers, adding a subtle touch of color into your yard.
9. Langman's Sage
Langman's sage, along with other members of the genus Leucophyllums, can provide significant summer color to desert yards. The hardy shrub does well in full sun and requires very little water. Similar to the flame honeysuckle, Langman's sage is native to the Chihuahuan Desert. The bush is dense and blooms lavender flowers in the late summer and fall.
10. Mexican Bird of Paradise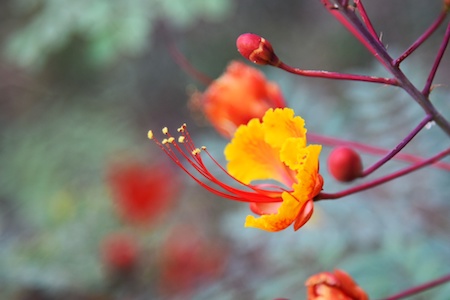 The Mexican Bird of Paradise is a shrub that can be grown as a small tree. Many homeowners use them as shade for patios, as they do well in full sun. Native to Mexico, the shrub requires a moderate amount of water. However, their beautiful bright yellow flowers in the spring and fall are well worth the investment. Mexican Bird of Paradise plants also attract pollinators such as birds and butterflies.
11. Superstition Mallow
Not only does the superstition mallow shrub have a cool name, but it's also an excellent plant to have in your yard to attract pollinators such as butterflies, bees, and hummingbirds. The bright orange-yellow flowers bloom in the spring and fall, and it does well in full sun with very little water.
12. Thornless Palo Verdes
If you want to add a tree to your Arizona yard this year, consider the thornless Palo Verdes hybrids. Have you ever noticed those brilliant flashes of yellow across Phoenix every spring? That's from the popular landscaping tree, the thornless Palo Verdes. The tree also provides plenty of nesting opportunities for birds and other critters. After a year, you don't even need to water the tree other than the occasional light spritzing during those hot Phoenix summers.
13. Desert Willows
If you want a fast-growing beautiful tree in your yard, consider planting a desert willow. They can reach up to 24 feet in a year. The trees are multi-trunked and the leaves are beautiful. Their flower colors range between white, pink, and violet. Hummingbirds often visit the flowers, so you can enjoy the rapid growth while enjoying local critters!
14. Saguaro Cacti
You've seen these everywhere in Arizona. The state flower of Arizona, this plant is very long-lived and a slow grower. Lateral stems growing off the main trunk can take up to 75 years before the first one appears. Some Saguaro cactus found in the desert are around 175 years old. Most Arizona gardeners will inherit the cactus when buying a new home or building on land with already established plants because of its slow growth. However, if you want a plant friend to stay with you through old age, a saguaro cactus is a good choice!
15. Banana Yucca
Banana yucca are known for their seedpods that resemble short fat bananas. Most other yucca species produce dry, hard fruits. The plants are evergreen and create beautiful flowers come spring. They make excellent barrier plants because of the needle-sharp leaf tips. Consider planting these in your garden to add an interesting texture to your landscaping.
---
How Can MasterAZScapes Help You?
When it comes to garden design and landscaping, our team at MasterAZScapes can help implement a beautiful landscape into any size yard. Our garden and landscape designers take all of your ideas and concerns into consideration as they plan your perfect yard. Just let us do the work! Call today for an appointment and to have all of your desert landscaping questions answered by an expert!