Is Desert Landscaping Easy to Maintain?
One of the benefits of having a desert landscape in your Arizona backyard is that, usually, it is low maintenance. However, do not confuse low maintenance with no maintenance. When you hire MasterAZScapes to create and install your backyard desert oasis, our professional landscapers will advise you on how to best take care of your new backyard. Some of our tips are included here in this blog post. For more questions and to get started on your desert landscaping, call MasterAZScapes for experienced landscaping services.
Mowing
Most desert landscapes do not have a lot of grass. However, many homeowners want to include at least a small patch of lawn. For people who have pets or small children, a patch of grass can provide a safe haven for some outdoor fun. While mowing a little patch of grass may seem straightforward, you should take care to leave the grass at an appropriate length. If you cut the grass too short, the grass will dry out much faster. When you leave the grass slightly longer, you'll help protect the environment and your wallet by saving on your water bill. Not only that, but the grass will be healthier.
Weeding
Even in a desert landscape, you'll have to stay on top of the weeds. You should weed your garden fairly regularly so that water and nutrients aren't being allocated to nuisance plants. If you consistently weed your garden, you'll give weeds less of a chance to spread their seeds across your beautiful desert landscape.
Fertilizing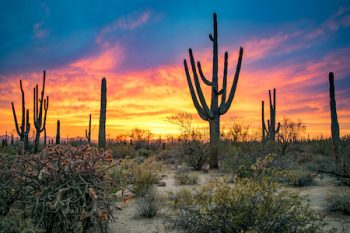 Most desert plants are drought-resistant and don't need a lot of extra fertilizer. They're used to growing in the desert, where nutrients and water are scarce. However, you may want to supplement your desert plants with other plants or flowers. In that case, make sure that you fertilize these plants to give them a little extra love.
Pruning
Another benefit to a desert landscape is that it doesn't require much pruning. However, in the dormant months, you may want to trim away any dead patches so that new growth can happen in the spring. Make sure to only trim the dead parts and only the bare minimum required. Keep in mind that when a plant is pruned, it often needs more water.
Watering
Most desert landscapes don't need much water to thrive in Phoenix. In fact, check out our list of 15 drought-tolerant plants to plant in your desert landscape this spring! Since rainfall is not very common in the desert, these plants are used to conserving water and finding moisture elsewhere. Make sure you don't overwater your desert landscape.
How to Maintain a Brand New Desert Landscape
While desert landscapes are easy to maintain, you'll need to pay your new plants some extra attention in the first couple of months. For the first two weeks, you'll want to water every couple of days. Every two weeks after that, you can increase the time between waterings by a day or so. However, make sure to pay attention to the drainage and any signs of stress on your plants.
---
How Can MasterAZScapes Help You?
Here at MasterAZScapes, we have over fifteen years of experience building desert landscapes, backyard ponds and water features for Scottsdale and Phoenix homeowners. We guarantee that our customers will be completely satisfied with our projects. From idea to implementation, we can help with every step of the process, including submitting and following through with approvals with homeowners' HOAs. Call today for a free estimate and get started on that backyard oasis!