Irrigation: How Does It Help?
Depending on your landscaping needs, an irrigation system may be the perfect way to water. One of the best reasons to get an irrigation system is for controlled watering. It allows you to automatically set when and how much water to deliver specific areas. These systems can be quite complex, allowing you to run different schedules for different areas while using the same system. This can be especially helpful for multi-use yards where you may have a vegetable garden in addition to decorative plants, flowers, and bushes. Let's explore the different types of irrigation systems you may encounter.
Common Irrigation Systems in Arizona
Some irrigation system types are more common than others, and in a desert environment, certain types of irrigation systems can yield better results.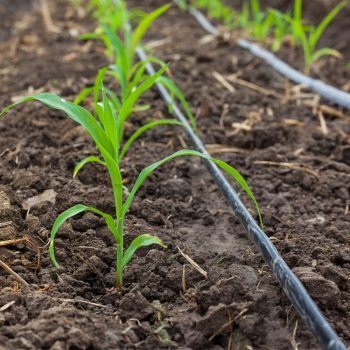 Surface Irrigation Systems
These systems use gravity to irrigate. Commonly used to water large crops, think siphon tubing and flood based irrigation. Furrow irrigation uses channels carved out of the earth, and around crops to determine the flow and level of water that crops receive.
Sprinkler Irrigation Systems
Sprinkler systems are ideal for smaller application areas. We've all seen above ground sprinklers, but complex underground systems can also be utilized. These may involve timers, different pressured or adjustable pressure sprinklers and are frequently used when watering lawns.
Drip Irrigation Systems
Drip irrigation is commonly used in vegetable gardens and for smaller crops. Pressurized water moves through tubing designed to release a specific amount of water. This drip/sprinkle method is effective for reducing water consumption because delivery goes right to the plant.
Sub-surface Irrigation Systems
This form of irrigation is similar to drip methods, but the tubes are placed underground. With a severely reduced potential for evaporation, this is one of the options that provides the most direct feed. It's used in both home and commercial applications to great effect.
What Is the Purpose of Irrigation Systems?
Irrigation systems are designed to water, and delivering the correct amount and as directly as possible is the easiest way to save money. Intelligent design of an irrigation system will do just that, but it needs to be right for your purposes. We've covered the general categories irrigation systems fall into, now let's look at specific watering purposes and the pros and cons of the best systems for the job.
What Are You Watering?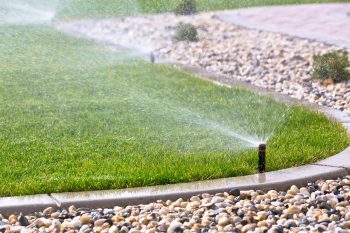 Your irrigation system will depend on the type of landscaping and plants you have in your yard. For specific questions or for help making your backyard oasis, contact the landscaping professionals at MasterAZScapes.
Grasses
If you have to have grass in your yard, you'll want to consider all your options. Midiron is frequently chosen for its ability to thrive under extreme sunlight. It's a durable grass species and low maintenance. For a really excellent choice consider a native grass. These are typically long stalked and wheat like, and are great for accents. Sprinkler systems are best for watering grass. Just make sure to water in the morning, keep grass cut to the appropriate length, and don't be afraid to let grass go dormant, only watering enough to keep it alive. The amount of time it can remain dormant varies from type to type, so find out first.
Bushes and Trees
Bushes and trees often need extended or deeper watering than other plants. That's where drip irrigation really comes in handy. There are a variety of ways to set up drip irrigation, and they don't all require a major investment or time. Soaker hoses are designed to release water steadily and slowly. This allows trees to and bushes to soak it up directly with little in the way of evaporation. Watering effectively is all about mitigating loss, and these provide a great way to do so without having to install an extensive system.
Flowers
Since flower species can vary greatly in their watering needs, many choose to water by hand. The great thing about drip irrigation though is that it can be customized for specific plants while still running off the same line. The best option is to plant accordingly. Choose similarly water hungry plants in specific areas. An irrigation system can be created to provide each "section" with the appropriate amount of water. Connecting timers to the system also allows for watering at a flower's optimal time.
Vegetables
Whether you're growing a field or a small at home vegetable garden, sub-surface irrigation is the clear choice. You can control the amount of water, timing, and safe water by reducing evaporation. This makes the most economical sense, and when you're growing vegetables the priority is typically to reduce consumption needs. Feeding vegetables at the source is the best way to accomplish this. These systems can also be mixed with above ground systems. That way you can keep lines from being strangled by any aggressive root structures, using sub-surface strictly for shallow and non-aggressive root structures.
Questions To Ask Your Landscaping Company
Choosing a company doesn't have to be difficult. With a few questions you can find out whether or not they have expertise in your specific application. Consider asking a company the following to help you narrow down your options.
My irrigation system will need to water (X). What is your experience installing these systems?
Do you warranty irrigation system installations, and what kind of coverage can I expect?
What equipment manufacturers do you prefer?
Does your company provide ongoing maintenance services for my irrigation system?
What is your estimated pricing for system (X) considering what I have just told you?
This will provide you with a lot of the answers you're looking for. Review the components most likely to be used in your system, if these are higher quality it can indicate better practices company wide. The ability to provide maintenance as well as diagnostics and system repairs also speaks to a company's qualifications. Determine the most common malfunctions that may occur with your system choice, and whether or not the warranty covers it. When you find a company that satisfactorily answers these questions, you'll know you've found a quality choice for installation.
Save Money with a Proper Irrigation System
Whether you want to save time, money, or natural resources, you can do all three with the right irrigation system. Contact MasterAZScapes for new irrigation system installation or to repair or replace your old one.