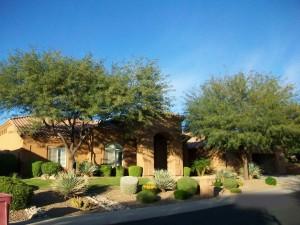 Install the most beautiful Phoenix plants and trees with our premium service
Nothing is more important or gives your landscape its distinctive look more than its plant selection. The dry arid climate of Arizona actually hosts a large variety of lush and diverse flora that― if well-maintained ― will invigorate any home's landscape to create a beautifully welcoming outdoor ambiance. The MasterAZscapes LLC designers and landscapers will help you plan your outdoor area with a beautiful selection of Phoenix plants and trees that achieve your design goals and help make your landscape into a pristine desert oasis.
Plants not only give your landscape its structure and appearance but they actually provide lots of practical benefits. From offering temperature reduction with shade, to providing habitat for wildlife and therapeutic qualities for homeowners, including plants and trees in your landscaping often add nuanced advantages that you'll notice after installation. We also offer free consultation if you are curious about what type of plants and trees will compliment your home the best. Please give us a call to see how plants can dramatically alter your landscape and breathe new life into your home.
Tree and plant placement and selections
Landscape planning with plants can prove to be a very involved project when taking into consideration the urban surroundings and design preferences. Arizona is known for desert landscaping but many other types of plants will flourish with the proper watering and shade. Our estimators are knowledgeable when it comes to plant selection and location. We consider the maturity, fullness, and the litter content of plants, and we are able to advise what works and what will not. Be sure to contact our office and set up a meeting to begin your landscape plan today.
Maintain your plants and trees with the best landscape services in Phoenix
Regular maintenance is key to ensuring your Phoenix flora lives long and looks great. Luckily, we offer regular maintenance like trimming and irrigation services to ensure your plants exhibit steady, healthy growth. Our expertise will prevent root rot, insect infestation, and deadwood overgrowth for trees. After 15 years of service, we've also become experts at repairing and reviving  sick or damaged trees. our fertilization treatment techniques ensure your plants will get proper amounts of nitrogen, phosphorus, and potassium to keep them looking and feeling their best. We'll also remove any dead or dying trees that have become an eyesore or even a hazard to your property. Call us today for a free consultation on your plant or tree maintenance, and we'll get your landscape looking lush in no time.
Desert Flora in Phoenix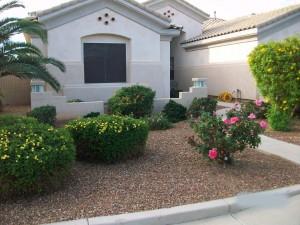 Arizona is a dry desert climate and requires hearty low water plants in most areas. There are a variety of landscape designs that will work with this type of environment. Consider what you find visually appealing when it comes to your plant selection, such as colors, litter, maintenance, aroma, and growth. Also, allergies should be mentioned during the designing and planning stage. Take advantage of our extensive knowledge of localized plants and our experience maintaining them to create your own vibrant and thriving landscape.
What type of plants and trees grow best in Phoenix?
Styles
Mediterranean
Desert Oasis
Xeriscape
Selections
Shrub
Vine
Groundcover
Cacti
Grass
Succulent