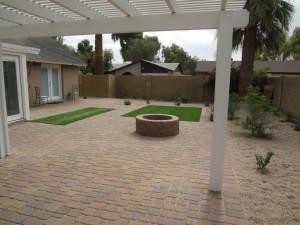 Ready to change your back yard look? Our Pavers in Phoenix can help!
When it comes to pavers, Phoenix relies on MasterAZscapes LLC. Whether it's for your backyard or front yard landscape, we have the skill to create a beautiful design. Our landscapers have been paving in Phoenix for over 15 years. This has provided us with the knowledge you want from your paver company. There are dozens of reasons to choose us for your premier pavers in Phoenix, so we've narrowed it down to the most important.
What you get with our Phoenix paving professionals:
Customer Satisfaction – We believe customer service is one of the most important aspects of doing business. We strive for the best and that is why we have so many customers satisfied with our work as pavers Phoenix depends on. We never forget that it is your property we perform work on. Once we finish, you will be the one enjoying our paving work for years to come. We believe your inclusion in the process is essential for our success. That's why you get consulted on every step of the project, so that we can ensure your pavers are organized exactly how you want them and match the dream you have entrusted us to help you realize.
Experience – After 15 years working in paving, we have learned a thing ― or 20. We know the ins and outs of paving. We can advise you on factors that can keep you enjoying your pavement long after we have departed. Considerations need to be taken for environmental factors. Phoenix weather conditions bring up issues like drainage during monsoon season. Our experience lets us navigate around problems before they arise, so you can enjoy your new walkway, driveway, or patio problem free.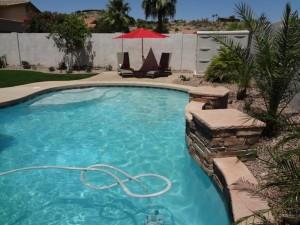 Workmanship – Our workmanship with Phoenix paving is unparalleled. We only employ craftsmen with an incredible attention to detail, so you can be guaranteed no paver will ever deliver out-of-place service. A newly laid outdoor space should look incredible from every angle, and when it's built by our expert pavers, Phoenix property owners see the quality of our work for themselves. We can account for any variations in your property. If you want a seamless transition from dry land to grass or a water feature, we have the skills to make it look incredible.
Services
Design – We perform all of our own design work. This way you don't have to deal with multiple companies, and we can work closely with you to bring your visions to life. Pavers in Phoenix come in a variety of textures, styles, and colors. We can create pictures using differing colors, geometric patterns, and layouts. This provides you with an artistic and practical living area. Pavers are also more resistant to cracking than concrete because the structure is composed of individual units instead of a solid piece.
Installation – Performing the installation along with the design gives us the ability to make a functional, gorgeous outdoor area that works with your current landscaping. If need be we can also make changes on the fly. This lets us account for conceptual changes, and provides you with even more opportunities for creative placement and patterns.
When you need the paving service Phoenix homeowners trust most, contact us. Our paving experts in Phoenix provide the best service, personalized work, and an area you can be proud to call your own.