Landscape Lighting
Take your landscape to the next level with outdoor lighting!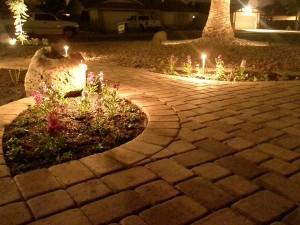 Landscape lighting in Phoenix can help take your landscape from ordinary to breathtaking. Not only does outdoor lighting give you much-needed light to navigate and enjoy your investment, but it also gives your landscape a whole new look and feel at night.
Landscape lighting creates an ambiance. It transforms a dark space into one with a romantic mood, or a garden wonderland. At MasterAZscapes LLC, our landscapers know how to properly design and install low voltage lighting systems that will make your landscape the envy of all your neighbors. 
Call today for a FREE Design Consultation!
MasterAZscapes lighting contractors have both an eye for lighting design as well as the expert know how to install energy-efficient lighting. We discuss your plans for your outdoor space. Once we know what functionality you have planned for your yard and which features you would like to make a focal point, we get to work creating a design you will love.
We believe for landscape lighting, Phoenix residents need a company that works with them. We collaborate with you, honing your ideas into a design that meets your needs and exceeds your expectations. That's because lighting is about more than just functionality. It presents an opportunity for you to create the perfect environment. Strategic design can make your yard extraordinary after sundown. Our experience and dedication have made us one of Phoenix's most sought after landscape lighting companies.
Outdoor Lighting
Illuminate your beautiful landscape design with low voltage landscape lighting. Accent the canopy of your trees and palms with a spotlight or well light and direct attention to a focal point in your yard. With pathway lights you get the added benefit of safety. Landscape lighting Phoenix benefits let your family and friends see where they are going at night. It also discourages criminals from targeting your well-lit home. All these benefits and more are just a phone call away.
Residential outdoor lighting ideas include highlighting: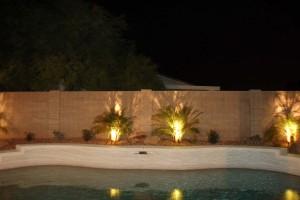 MasterAZscapes can also improve recreational and business areas with outdoor lighting. We offer lighting for basketball courts, tennis courts, playground areas, column lighting, flood lights, as well as commercial grade lighting. We provide a virtual lighting tour that will make it easier to eliminate those dark corners, allowing you to see the difference before we begin. Be sure to call and ask how we can help you achieve the optimal landscape lighting Phoenix homes and businesses want!
Accented Compliments
Proper lighting placement is a thoughtful part of your landscape planning. This can be achieved by highlighting all focal point accents and features along with adding a splash of light in both trees and pathways. Make your home glow with outdoor lighting to complete your landscape design. You will add to the feel of the area, make it safer, and make the space more useful at night. That's an incredible value from just one landscaping service!
Lighting Products Include:
Pathways
Step Lights
Spot Lights
Well Lights
Column Lighting
Pan Lights
Flood Lights
Low Voltage Lighting
Sport Court Lighting
Accent Lighting
Custom
When you're ready for the best in landscape lighting, Phoenix home and business owners have been relying on us for over 15 years. Get the quality, craftsmanship, and great pricing you've been looking for. Call (623) 780-0474 or Contact Us for landscape lighting in Phoenix today.
Our Lighting Features Work