Landscape Design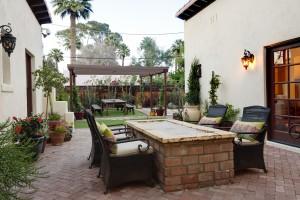 Landscape design is a melding of space, vision, and creative flair. At MasterAZscapes LLC, our landscaperslisten to your vision, get to know the available space, and get to work on a creative design that brings these elements together. We deliver on beauty, functionality, and quality for landscape design Scottsdale residents love. 
Landscape design that understands you.
We begin by getting an understanding for your needs. Which spots gets the most foot traffic? Where do you want shade, and at which part of the day? Do you need lighting for evening entertaining? How about an outdoor kitchen or a meditation space? We get to know your plans for the space and include true functionality into the aesthetic design.
For landscape design Scottsdale residents truly benefit from, we install systems that make life better. This includes everything from irrigation and sprinkler systems to outlet placement. We have the expertise to design your landscape including plumbing, lighting, and all the necessities that come with things like an outdoor kitchen, waterfall, or a sound system. We have the capabilities to include Auto Cad, 3-D, conceptual renderings, and more. We bring the landscape design to life so you can fine-tune the plans into your perfect outdoor space. 
Additionally, we have tree and plant experts on our staff who are ready to advise on the best greenery to achieve your desired results. From flowers that best handle the heat to trees that maximize the shade in your landscape, we make it happen.
Customized Landscape Design and Installation
Not only do we plan your landscape design, Phoenix installation experts also handle the implementation. Many companies do one or the other; MasterAZscapes does both. We specialize in landscape design and installation from beginning to end. Our technicians are experienced experts. That means you get specialists performing electrical, plumbing, and landscaping work. This delivers the highest quality to every aspect of your build.
We do both home and commercial landscape design in Scottsdale. This includes projects of any size. Our landscapers pride themselves on functional designs and beautiful spaces. We can accommodate any style you want. Looking for a Greco-Roman style pool as your focal point? We can do that. Do you want your own putting green? Done. What about an elegant, old missionary-style entertainment space where you can host dinner parties? You got it.
Customizing your landscape into a desirable design can quickly make it your most favored "room." Get family together more often by adding an outdoor dining area and a fire pit for evening enjoyment when the meal is done. With an outdoor space you love, you will find yourself getting more fresh air and enjoying the great outdoors right in your own backyard. Not only that, you increase curb appeal and home-value with gorgeous landscape design Scottsdale loves.
Call (623) 780-0474 or Contact Us today and get started on a free estimate for your landscape design in Scottsdale.
Additional Scottsdale Services Include: