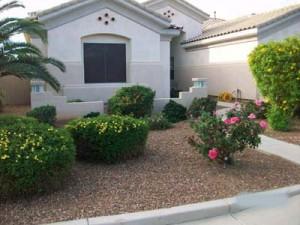 Full-Service Landscaper
As your local professional landscaper in Phoenix, we have experience in the landscaping business going back to 1986. When it comes to finding a landscaper in Phoenix, homeowners want a solution that meets their needs, and our business is built to intuitively serve those needs. We work with you to identify your ideals, habits, and style in creating landscaping that is as functional as it is beautifully suited to your unique flair. Our skilled landscapers work with lush grass, artificial turf, desert scaping, fire features, retaining walls, shade structures, outdoor kitchens, and more. We are an experienced contractor that can handle the limitless possibilities available for Phoenix landscaping. Make it happen with MasterAZscapes LLC.
Trusted Phoenix Landscaper
At MasterAZscapes we believe in communication. That starts with listening and continues through our transparent pricing. We make sure we understand your needs. We give you a realistic time frame and a written cost estimate. Why take a gamble on the finished product with another company when we'll put it in writing?
---
Choose a legacy of excellence
Our business was built on integrity and honesty. Our entire staff is committed to dependability, quality, and customer satisfaction. There is a reason so many of our customers insist on sticking with us—and they tell their friends! Check out our A+ rating with the Better Business Bureau and our excellent reviews on Angie's List. We have over 50 reviews on HomeAdviser and an excellent rating as well as a Screened and Approved Badge.
We finish on time and on budget. We deliver excellent customer care, knowledgeable, skilled landscaping and building, top-of-the-line products, and a team that truly cares about the work we provide.
We back all of our work with material and workmanship warranties! We guarantee your satisfaction, for your peace of mind.
Here is just a taste of what folks have to say:
"We had two trees removed from around a pool area where no heavy equipment could get in. We also had two trees trimmed and they look great. We also had a huge ficus tree trimmed and cleared back from the pool, as well as cleaned out on the inside. The ficus looks fantastic. I highly recommend MasterAZscapes. Professional, Courteous, and very good at their work." – Review by a homeowner in Peoria on HomeAdvisor
"Great from beginning to finish. Zee came to my house we discussed what I needed. He made suggestions and we scheduled and the crew showed up and finished the job on time and were very professional, had the job done as promised, left the job site clean and finished just as promised.  I need a few more projects completed I will be calling this crew again." – Rick K of Phoenix review on Yelp
---
Landscaper and Design Services in Phoenix
At MasterAZscapes we have all your landscaper Phoenix needs covered. We personalize each job according to your specific space, budget, and vision. We can help you carry out your vision for an outdoor space or tailor additional features to match your existing plan. Each space is unique and we want you to feel your home or business is landscaped to perfection.
Think About the Potential
Having an outdoor space worth spending time in is almost like adding on a new room. You suddenly have all this extra space to enjoy. Landscape additions such as a fireplace, an outdoor kitchen, and pavers create both ambiance as well as functionality. Our landscape designers listen to your heart's desire. Whether you need extra space for exercise equipment, yoga or meditation spot, or more room for the kids to play, we can come look at the space and bat around ideas with you.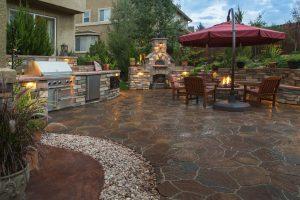 Hardscaping and pavers are a common way to expand the usage of your yard, and it has the added benefit of cutting down your water bill. Trading in grass for decorative hardscaping, like brickwork, pavers, or decorative concrete allows for so much more potential. Think about the last time you actually walked through a gassy lawn (other than when you were working to maintain it or looking for deposits made by the dog).
Lawns not only use up water, but also take time to maintain. Some people prefer a lush, green lawn, and that is a perfectly respectable choice. We are happy to install lasting, healthy lawns. In fact, we can put in a putting green, if golf is what comes to mind when you think of a lawn. However, many people install a lawn because it is what comes to mind when they first consider landscaping. If you haven't thought about it before, ask yourself what hobbies and/or activities you and your family could do in your outdoor spaces.
From installing shade structures and misters to creating a full-scale outdoor kitchen and dining area, we can create an outdoor space that does more than just look nice. We can actually get you outside!
Think of the family time and increase in social ties that could come with a gorgeous, functional outdoor area where you can prepare meals and eat outside!
Have friends over around dusk, for a drink around your fire feature when the weather cools down and the sunset is at its best.
Create a community yoga routine where your immediate neighbors can join you for that extra bit of motivation you need to make it a daily habit.
Get the kids off their electronic devices by creating an outdoor area with a mini basketball court, foursquare area, and tetherball pole.
How about a porch turned into a craft space?
What about an outdoor office space with a screened-in shade structure, built-in desk, and plenty of outlets?
The options are only limited by our joint imaginations. Talk to us about what you enjoy. What would you do more of, if you only had the space?
---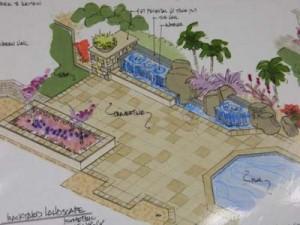 Get the expert help you've been looking for!
Our in-house certified arborists and expert landscapers have the skills and knowledge your landscape needs. We can diagnose and treat both native and non-native trees and plants. With our pruning services, your fruit-bearing trees can even yield a larger crop! When you need specialized care from your landscaper in Phoenix, you can depend on our landscaping masters.
We design landscapes around your needs
The needs of our customers vary greatly. Sometimes entertaining is a deciding factor, and preferences can vary greatly. From gorgeous accent features like fountains and ponds to entertainment staples like fire-pits and outdoor kitchens, we do it all. Our pricing is affordable and competitive. This allows our customers to get more than they bargained for. Excelling at multiple services saves you from contracting multiple companies for your Phoenix landscaping needs.
MasterAZscapes LLC
Frequently Asked Questions About Landscaping
How can I conserve water in my landscape? Water conservation techniques include using drought-tolerant plants, installing efficient irrigation systems, grouping plants with similar water needs together, and utilizing mulch to retain soil moisture.
How can I improve the health of my lawn? Regular watering, proper fertilization, weed control, aeration, and overseeding are key factors in maintaining a healthy lawn. Contact us today! We can provide tailored advice for your specific lawn care needs.
Why should I hire a professional landscaper? Hiring a professional landscaper ensures that your outdoor space is designed and maintained properly, saving you time and effort. We have expertise in plant selection landscape design and can enhance the aesthetic appeal of your property.
Take a look at our Portfolio page to see some of the projects we have done!
MasterAZscapes LLC Is Proud To Be A Locally-Owned Business In Phoenix
Welcome to MasterAZscapes LLC, your trusted, locally-owned landscaping company in the heart of Phoenix, AZ. Nestled amidst the vibrant attractions of this sun-soaked city, we take pride in transforming outdoor spaces into captivating havens.
Just like the thrilling slides at Hurricane Harbor Phoenix, we believe in creating landscapes that evoke excitement and tranquility. Our expert team designs and crafts outdoor environments that reflect the unique spirit of the desert while providing respite from the Arizona heat.
Just as the Phoenix Zoo showcases the wonders of the animal kingdom, we showcase the wonders of nature through our landscaping prowess. Our designs harmonize with the surroundings, seamlessly integrating with the local ecosystem while enhancing the beauty of your property.
Drawing inspiration from the rugged beauty of South Mountain Park and Preserve, our landscaping creations embody the essence of the desert landscape. We incorporate native plants, natural stone elements, and sustainable practices to craft outdoor spaces that honor Phoenix's natural heritage.
At MasterAZscapes LLC, we understand the local attractions that make Phoenix special. Our landscaping services capture the essence of these attractions, ensuring that your outdoor space becomes a reflection of the vibrant, diverse, and breathtaking spirit of this city we call home. Direction to MasterAZscapes LLC

Your Search For An Experienced Landscaper Near Me Is Over
Discover MasterAZscapes LLC, your premier locally-owned landscaping company in Phoenix, AZ. We take pride in enhancing outdoor spaces across the city with our diverse range of services tailored to your needs.
Picture lush green Artificial Turf that stays vibrant year-round, mirroring the desert's allure without the maintenance. Our Backyard Landscaping designs transform ordinary spaces into extraordinary retreats, perfectly suited for the dynamic lifestyle of Phoenix residents.
Imagine the soothing melody of Backyard Waterfalls transforming your outdoor oasis into a serene escape. Our craftsmanship brings the tranquility of nature right to your doorstep.
Embrace the rugged beauty of the desert with our Desert Landscaping solutions, seamlessly blending your property with the stunning surroundings of Phoenix.
Just as Phoenix's bus stops like Phoenix 44 St Transit Ctr, Buckeye Rd & 22nd Av, and Sunnyslope Transit Center connect the community, our landscaping expertise connects your property with the essence of the city. We understand the importance of local accessibility and ensure that our services cater to the diverse needs of our neighbors.
At MasterAZscapes LLC, we're not just landscaping your space; we're crafting experiences that resonate with the vibrant energy of Phoenix while providing an oasis of comfort and style. Transit Directions To MasterAZscapes LLC

Our Team Is Proud To Work In Many Neighborhoods Throughout Phoenix, AZ, Including:
85085 85083 85310 85027 85024 85308 85086 85050 85053 85023 85022 85306 85383
Check Out Some Of  The Reviews From Our Happy Customers
"My husband and I were very impressed with this company!  From our initial meeting with Derek for an estimate, to watching Armando and Bernardo transform our backyard with a beautiful waterfall (these two are truly artists!) we could not have been happier.  They arrived on time each day and did a great job of cleaning up before they left for the day.  The communication was exceptional and we felt that we were working with real professionals!  Would not hesitate to recommend them."-Sharon P.
"Very high quality and professional company. Greatly enjoyed Troy and his designs. They worked hard and you can definitely tell they have a high-quality craftsmanship than most other landscape companies here in the valley. I don't have any complaints. They were a little more expensive than the other quotes we received, but the end result was die direly worth it."- Mac.
"We just moved in to a house with only dirt in the backyard. Jeremiah came out and listened to what we were thinking for the yard and then gave us suggestions that we hadn't even thought of. Jesus and his crew did an exceptional job with all of it. They all were not only great at their job, they were kind and very considerate. Supervisor, Darrel, kept us updated on all aspects of the project. From the island grill and the fire pit to the pergola and landscaping, they truly transformed our bland backyard to our own personal paradise. We would highly recommend Masterscapes to anyone wanting to improve or totally makeover their yard. They do high quality work with the best materials and great workmanship. These qualities are extremely hard to find these days."-Don M.
At MasterAZscapes, We Offer A Wide Range Of Services, Including:
Artificial Turf

Backyard Landscaping

Backyard Waterfalls

Built-in Grills

Desert Landscaping

Fire Features

Front Yard Landscaping

Garden Design

Hardscapes

Irrigation

Landscape Design

Landscape Lighting

Landscape

Landscaping Company

Landscaping Contractor

Landscaping

Masonry

Outdoor Fire Pits

Outdoor Fountains

Outdoor Kitchens

Outdoor Lighting

Pavers

Plants and Trees

Putting Greens

Retaining Walls

Shade Structures

Sprinkler Irrigation

Stump Removal

Tree Service

Water Features

Pool Remodel
About Phoenix, AZ
Nestled in the heart of the Arizona desert, Phoenix emerges as a vibrant oasis where urban sophistication and natural beauty coalesce. As the fifth-largest city in the United States, Phoenix exudes an undeniable energy that reflects its diverse culture, dynamic economy, and rich history.
Renowned for its year-round sunshine and warm temperatures, Phoenix offers a haven for outdoor enthusiasts, with an array of hiking trails, golf courses, and recreational activities. The iconic Camelback Mountain stands as a sentinel over the city, inviting adventurers to conquer its trails for panoramic views that capture the essence of the desert landscape.
The city's cultural scene is equally captivating, with an eclectic blend of museums, galleries, and performing arts venues. Downtown Phoenix pulses with life, housing a burgeoning culinary scene that spans from food trucks to fine dining establishments. The historic Roosevelt Row Arts District embodies the city's creative spirit with its vibrant street art and monthly art walks.
From the Desert Botanical Garden's unique cacti collection to the Heard Museum's celebration of Native American art and culture, Phoenix offers a tapestry of experiences that honor its heritage and embrace innovation. As a hub of innovation, the city hosts cutting-edge research institutions and thriving tech companies.
Phoenix's warmth extends beyond its climate, evident in the friendly locals who welcome visitors with open arms. Whether exploring the bustling cityscape or seeking solace in the surrounding desert landscapes, Phoenix beckons as a destination that seamlessly weaves urban vibrancy with natural allure.
Directions To MasterAZscapes