Looking for Landscape Lighting Phoenix Professionals?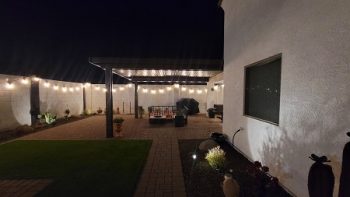 Why make your outdoor landscape enjoyable only in the daylight? Outdoor lighting transforms your yard into a usable and gorgeous space once the sun goes down. With the Phoenix heat, it is not uncommon to spend more time outdoors in the evening and twilight hours than in the heat of the day. Let MasterAZscapes LLC illuminate your yard or the outside of your commercial property with outdoor lighting Phoenix has come to love.
Outdoor lighting creates a specific mood that injects magic into your landscaping. You can highlight specific focal points or accent several areas. These can include anything from a water feature to decorative garden lanterns. Lighting not only creates a romantic ambiance to your outdoor setting and boosts your curb appeal, but it also greatly improves the functionality of your outdoor space, making it an excellent landscape design investment.
Our exterior lighting professionals opt for the most energy-efficient lighting so you can spend time in your yard deep into the night without worrying about a large increase in your energy costs. We also have nearly limitless options on exterior lighting design, from Moroccan-style lanterns to a comfy, country feel—and everything in between.
Outdoor Lighting Phoenix Loves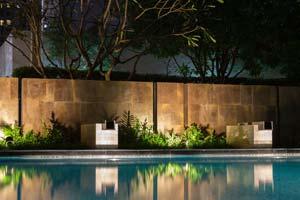 Our landscaping contractors have the expertise to not only plan your outdoor lighting but also install it for you. We have electricians to install the outlets and wiring necessary to bring power to where it is needed for the desired outcome. Whether you are installing a new landscape design or simply adding lighting to your existing one, we work with you to create the look and functionality you want.
We start by talking to you and looking at your space. We discuss everything from which areas receive the most foot traffic to how and where you might entertain. Are you planning to cook or dine outside? Are there stone steps that could be made safer with lighting? How about security lighting around windows and entranceways? We include these types of pragmatic decisions in the design of your outdoor lighting installation as well as adding artistic flare.
Come look at our catalogs and portfolios to gain some ideas as to what we can accomplish with your landscape lighting installation. Whether you already have a good idea about what you are looking for or you need a little help pulling an idea together for our outdoor living, we can help. We are happy to check out your home or business and start putting together some plans based on your needs and creative vision.
Features to highlight with outdoor lights include:
Types of Outside Lights We Provide
Pathway Lights

Water Feature Lighting

Spot Lights

Step Lights

Well Lights
Pan Lights

Low Voltage Landscape Lighting

Flood Lights

Column Lighting
Patio Lighting/ Deck Lighting

Beautiful Accent Lighting

Sport Court Lighting

Custom Lights
MasterAZscapes Are Landscapers You Can Trust
The foundation of our business rests on integrity and honesty, and it's a commitment we take seriously. Every member of our team is dedicated to providing dependable, high-quality customer service that results in customer satisfaction. It's this focus on excellence that has earned us a well-deserved reputation, with happy customers spreading the word to their friends and family. Don't just take our word for it, though. Check out our A+ rating with the Better Business Bureau, our glowing reviews on Angie's List, and our over 50 positive reviews on HomeAdvisor. We're proud to have earned a Screened and Approved Badge on HomeAdvisor, too. Most importantly, we back everything we do with a material and workmanship warranty, ensuring peace of mind.
Contact us today for your free consultation. Let us breathe new life into your yard with our outdoor lighting solutions has come to trust.