We will install the best artificial grass solution for your Phoenix home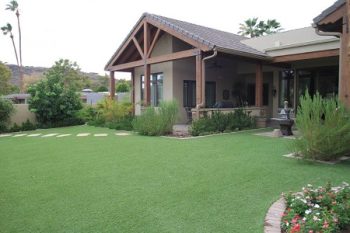 Here at MasterAZscapes LLC, we're your source for artificial turf that Phoenix residents regularly depend on. We offer a wide selection of reliable artificial turf varieties at competitive prices. Our Phoenix landscapers can help you identify the type of artificial grass product that best suits your needs, and our turf selection will help your home maintain the look of lush grass year-round without the need for regular watering and maintenance. We provide high-quality custom turf installations that help Phoenix homeowners take pride in their lawns and gardens. With our synthetic turf installation guarantee, you can also be sure your custom fit turf is installed correctly and will last a long time.
Our artificial turf Phoenix AZ residents won't have to worry about constant lawn maintenance
Unlike maintaining real grass, artificial turf can be a great solution for property owners tired of lawn maintenance. As homeowners get older, maintaining a lawn can become increasingly more difficult. Homeowners must pay for services or constantly spend time and energy ensuring healthy grass growth themselves. This can aggravate health conditions and pose a risk of injury to elderly residents. With high-quality artificial turf Phoenix can count on, residents can avoid these chores entirely and still enjoy a lush green landscape that draws in visitors and looks great to passers-by. By enlisting our landscaping services, you can also ensure that any issues with your turf will be managed year-round to your liking.
An eco-friendly, fake grass option that saves on water for your Phoenix home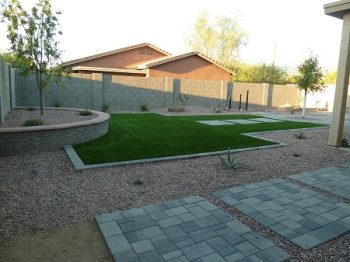 Water conservation is a growing concern, and for Phoenix residents, saving on water consumption can benefit costs and sustainability. You won't generally find grassy plains in the Phoenix landscape since it doesn't support them naturally, so artificial turf products are often a great option for residents who want a green lawn that visually pops. Keeping a lawn green with natural grass takes a major toll on natural resources as well, and water is only going to get more expensive for Phoenix homeowners. With this bright, fake grass landscaping, you can have a gorgeous, low-maintenance landscape that combines natural features, such as our backyard waterfalls installations, local plants, and artificial grass.
Cooling synthetic grass for artificial Phoenix turf products
Arizona's summer heat can make synthetic grass hot to the touch for little feet. Ask about our synthetic turf cooling system; it can make a huge difference for hosting friends and, ultimately, for your family's enjoyment.
We provide artificial turf installation just the way you want it
Artificial turf can be installed in any configuration to match your property. We pride ourselves in designing landscaping that meets the needs of our Phoenix customers, and this customization extends to our artificial grass installation process as well. When our artificial grass installers put in your new premium turf, we'll be sure to maintain the integrity of your home and lay down your new artificial lawn addition specifically to your directions and needs. We can even install putting greens products that will never lose their color and serve as a great source of entertainment year-round. Our quality services and excellent customer service are why Phoenix homeowners love us. Now is the perfect time to enjoy the benefits of artificial turf, so what are you waiting for?
Call us today for our wide variety of artificial turf options that last and look great in Phoenix.