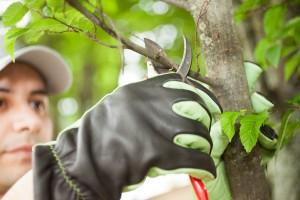 Time to spruce up your yard? Try our tree trimming in Phoenix!
Though trees thrive in nature, there are some natural phenomenon homeowners tend to forget. When trees cannot support themselves, they suffer. Splitting can occur, branches can break, and it's even possible for the tree to topple over. People and property can be injured as well. With regular tree trimming, Phoenix residents don't have to worry about the health of their trees. Our professional landscapers can reinvigorate your tree and ensure its long lifespan.
Pruning is another important job that we can handle for you. While trimming is primarily for appearance, pruning helps with fruit production and tree heath. Without regular tree service, top heavy Phoenix trees can split at the crotch due to the overbearing amount of weight. To prevent these tree disasters, we can provide you with crown cleaning or crown thinning to reduce the amount of deadwood and overgrowth in the tree canopy. Cross branching is another issue that results in open wounds which could cause diseases or invite insects and other problems. By using our periodical tree pruning services, Phoenix homeowners will reduce the risk of tree damage and tree disease as well as maintain vibrancy and health in their landscaping. With experienced tree care specialists on-call, we're ready for anything you need!
Keep your Phoenix trees healthy year-round
When a tree gets sick, eventually, it can die. And once the root system goes, one of Arizona's famous gale-force winds can knock it down completely. This is much more likely if the tree was top-heavy to begin with. Don't wait too long! Our certified arborists know exactly what to look for and can assess which ones need tree service for safety reasons.
Get protective tree trimming today!
By enlisting our services, you'll get a full spectrum of benefits that keep your Phoenix trees living long and looking beautiful. Some of these include:
Improved tree health – Our tree trimming professionals can identify and remove dying or dead limbs. This improves overall health, prevents additional decay, and removes the risk of falling branches.
Improved crop yields – Fruit trees benefit greatly from selective trimming. We can help you get the greatest yield from your fruit tree this year.
Improved tree growth – Trimming allows your tree to get adequate sun and air circulation. It keeps weak branches from developing, and also prevents branches from competing for crown space. Your tree will get the fastest and fullest growth from our services.
Improved tree beauty – Poor health, wild overgrowth, and other factors can rob your tree of its beauty. We can diagnose and correct tree problems with trimming, pruning, and shaping that helps your tree grow beautifully.
Our services for Phoenix residents extend beyond tree trimming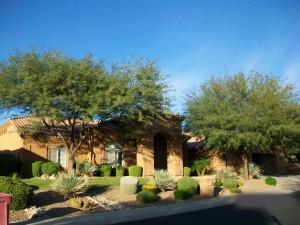 At MasterAZscapes LLC, we're more than tree trimmers. We're a comprehensive landscaping company that offers a wide range of services for maintaining and updating yards and outdoor areas. We prune and trim trees, but can also help you create that perfect look with our landscape design services. Our team also specializes in hardscaping with projects like outdoor kitchens and water features. We can even install artificial turf and set up a putting green right in your yard!  When you want effective, expertly performed tree trimming and much more, call or contact us today.