Outdoor Lighting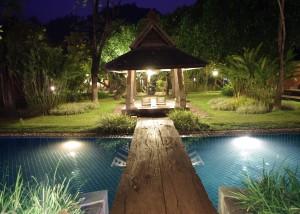 MasterAZscapes LLC increases both the functionality and the ambiance of your outdoor spaces with outdoor lighting from Scottsdale landscapers. We offer LED and low voltage options to keep your utility bills down as you spend more time enjoying your outdoor getaway. Out high-quality fixtures and decorative lighting options can create a mood that truly transforms your yard or the area around your business.
Our landscape designers visit your space and listen to your hopes for the area. We ask about everything from which parts of the space get the most foot traffic to what usage you have planned for the area. Do you want to highlight a focal point to center the eye and show off your favorite statuary, water feature, or decorative dining space? Do you need to be able to read in one area, or would you prefer the low lighting that creates a romantic mood?
We can bring a garden to life with a subtle glow and decorative accents or we can light up a sports court for nighttime use. Increase the hours you can use your outdoor kitchen and dining areas and entertain well into the twilight hours.
Once we have seen the yard or outdoor space and know what you have planned for both functionality and artistic vision, we can begin to draw up plans for your outdoor lighting. Whatever outdoor lighting theme or style you prefer, we bring your vision to life.
Functionality and Beauty with Outdoor Lighting Scottsdale Loves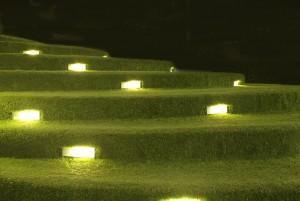 With electricians on staff to help with everything from the planning stages to the safe implementation of your outdoor lighting, Scottsdale has come to trust us as the go-to name for this service. Our plans meet or exceed safety standards and building codes. Our professionals can install outlets and wiring to bring lighting to the areas you want. This can make pathways safer and easier to see. Our knowledge of tress and plants also ensures the lighting will not cause any damage to your greenery.
If you are creating a whole new look for your landscaping, we can design the lighting as part of that theme. If you simply want to get more use in the cooler hours of your existing yard, we can add landscape lighting to your home or business. With many years in landscape design and implementation, we have earned a reputation for excellence. We guarantee all our work, so you can feel confident you will get the outdoor lighting you envisioned.
Focal points to highlight with outdoor lighting in Scottsdale include:
Shade structures
Masonry Work
Outdoor Kitchens
Palm Trees
Garden areas
Some of Our Outdoor Lighting Products
Well Lights
Pathways
Step Lights
Spot Lights
Column Lighting
Pan Lights
Low Voltage Lighting
Flood Lights
Accent Lighting
Sport Court Lighting
Custom Lighting
Call today for your free estimate today and find out why we are the source for stunning outdoor lighting Scottsdale has come to trust.