Outdoor Kitchens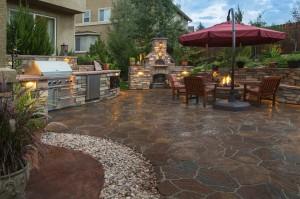 With so much sun most of the year, it is a shame not to have a great landscape of your own where you can enjoy it. Outdoor kitchens, Scottsdale residents enjoy most are designed to be livable, beautiful, and durable. These areas quickly become the favorite family hangout and create the perfect reason to socialize. MasterAZscapes LLC builds outdoor kitchens perfect for you and your unique home or business.
Outdoor Kitchens Scottsdale Loves
Imagine the perfect amount of shade over built-in seating, a master grill, and a landscaped scenery that calls for nothing but relaxation. Perhaps a full-scale bar speaks to your personal outdoor kitchen dreams. Or, how about a refrigerator and countertop space for cutting and blending the perfect after-yoga smoothie? Our outdoor kitchens Scottsdale designers can do it all.
Outdoor kitchens from start to finish
From inspection and consultation to the design and implementation, our experienced landscape contractors are there for you. Whether you already have it planned out, or you need to look over options and discuss the potential, we are ready to meet your needs. That's why we work closely with every client. Outdoor kitchens Scottsdale benefits from aren't designed alone. You have ideas, preferences, material types, and features in mind. We'll help you hone your ideas, and design an incredible layout that meets all your needs.
The Go-To Name in Scottsdale Outdoor Kitchens
Our company is synonymous with outdoor kitchens in Scottsdale. With 15 years of satisfied customers, when people see the designs we create they can't help but ask for a reference! Nothing impresses like an outdoor kitchen. Once we put one in for you, you will find the family gathers for meals more often, friends say yes whenever they get an invitation from you, and you will feel like you added a relaxation center to your home. With warranties on all our work, your satisfaction is guaranteed.
Top of the Line Outdoor Kitchens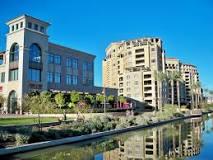 We have a large selection of grills and outdoor furniture. We look for the best warranties to pass on to you. The potential for hardscaping, brickwork, fire pits, fountains, wood framework and more is all ready to be tailored for your unique style. Taking all your needs into account allows us to build you the highest quality outdoor kitchen for your budget. With outdoor kitchens, Scottsdale clients that choose us get a dedicated team of specialists. Every aspect is considered and we only use experienced, highly skilled experts for each job. That means electricians provide electrical work, masons provide stonework, and every task is performed by a practiced hand.
Some outdoor kitchen ideas include:
BBQ Islands
Outdoor Wetbars
Granite Counter Tops
Designer Sinks
Drop in Coolers
Awnings and Umbrellas
Shade Structures
Decorative Paver Dining Areas
When your ready to take your outdoor experience to the next level, call (623) 780-0474 or Contact Us for outdoor kitchens, Chandler business and home owners have enjoyed for more than a decade.
Other Locations Include: