Outdoor Kitchens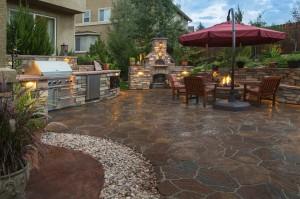 When it comes to outdoor kitchens, Chandler residents want form and function. Design is incredibly important. A capable outdoor kitchen company can design and build a kitchen as rustic or refined as you want. At MasterAZscapes LLC, our landscapers can custom design the outdoor kitchen that is right for your Chandler home and your budget.
With outdoor kitchens, Chandler design and installation experts can include decorative pavers, a built-in barbecue, tray warmers, refrigerator, full-sized oven, and dining area, or they can be a as simple as a small stone oven and a mini-fridge. 
We have a large selection of top-quality appliances to choose from. From granite counter tops to stainless steel, we have varying styles and sizes that scale for beautiful outdoor kitchen amenities for any number of guests. Customization is key for outdoor kitchens—Chandler business and homeowners are creating an ideal space. It sets the mood for amazing memories, and we'll help you make it perfect.
Custom Outdoor Kitchens
Our talented landscape contractors are skilled in all aspects of outdoor kitchen design and outdoor kitchen installation. We work with you, discussing your plans and desired uses for your outdoor kitchen. We consider everything from where to place pathways according to your family's habits to which appliances are the most cost effective for the size of meals you plan to prepare.
Some outdoor kitchen ideas include:
BBQ Islands
Outdoor Wetbars
Granite Counter Tops
Designer Sinks
Drop in Coolers
Awnings and Umbrellas
Shade Structures
Decorative Paver Dining Areas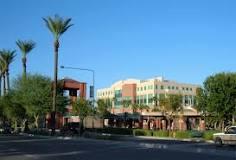 Outdoor kitchens Chandler property owners enjoy are made to enhance your use of your outdoor spaces. You will find excuses to get outside and use your built-in barbecue or dine on your patio. Designing a relaxing, functional outdoor kitchen paired with our expert landscaping not only improves the value of your Chandler home, it also brings family and friends together.
Don't wait—increase your property value, functional space, and turn the outdoors into so much more. Call (623) 780-0474 or Contact Us  for professionally designed and installed outdoor kitchens, Chandler residents value most. We provide a variety of other landscaping services including putting greens, tree trimming, and artificial turfs.
---
Chandler
Chandler, AZ is part of the Greater Phoenix area, but it has appeal all its own. With many great employers, like Intel and Ebay, more people who live in Chandler also work in Chandler, AZ. The number of outdoor park areas, large open-air shopping malls, and diversity of dining options, makes Chandler, AZ a great place to live and work.