Outdoor Fountains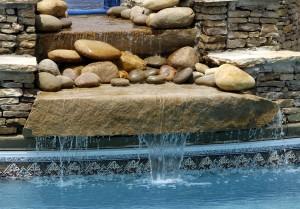 Nothing complements your landscape quite like a gorgeous custom designed fountain. They provide an amazing backdrop, and create an incredibly relaxing mood and tone. When they need outdoor fountains, Phoenix residents call MasterAZscapes LLC. Our landscapers design and install incredible outdoor fountains that turn your yard into an oasis.
Enjoy the benefits of outdoor fountains today!
With outdoor fountains, Phoenix benefits aren't limited to aesthetics. They don't just help set the mood, our outdoor fountains do so much more.
Improve your health – With outdoor fountains, Phoenix residents get great health benefits. Fountains act as natural humidifiers. This is especially important in a dry environment like Arizona. They have also been found to filter dust and allergens out of the air.
Improve your surroundings – Our outdoor fountain design works with your environment. If you already have landscaping work done, we'll build a complimentary design. If you're working with a clean slate, we'll help you to hone your ideas into the perfect fountain.
Improve your mood – When it comes to outdoor fountains, Phoenix residents can see great improvements in mood. The sound of running water is naturally relaxing. This helps with stress relief. It can also draw more avian wildlife to your yard. Between bird songs and your water feature, you'll forget you're even home.
Improve property value – Outdoor water fountains can greatly increase the value of your home. They can be a major incentive for potential buyers. When paired with natural landscaping and hardscapes, you can create a great vacation spot in your own backyard.
Build the backyard you've been dreaming of with outdoor fountains in Phoenix. Call (623) 780-0474 or Contact Us today to get started! We provide landscaping services to more areas than Phoenix. If you need a professional landscaper in Scottsdale, Gilbert, or Chandler we are here to help!
Other Services Include: