Backyard Landscaping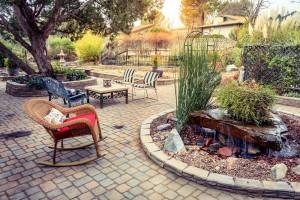 When it comes to your backyard, the right landscaper can make all the difference. Your backyard can be a showcase, a personal getaway, or even a great place to entertain. Backyard landscaping Phoenix residents benefit from the most meets their needs. This varies between properties and owners. With MasterAZscapes LLC you can get exactly what you're looking for in a backyard landscape.
Backyard landscaping you can be proud of!
With backyard landscaping, Phoenix residents want their personality to come through. Our designers can incorporate the features you want most:
Natural backyard landscaping – Working with nature is our forte. When you want backyard landscaping that works with your property, we provide. We can rework your property, but many homeowners find that incorporating natural elements provides a natural feel.
Custom designed features – Our backyard landscape designs incorporate the features you want most. We can build a number of enhancements that include fire and water features, outdoor kitchens, and awnings. These provide you with the comforts of home in the great outdoors.
Complete installation – For cohesive backyard landscaping, Phoenix properties benefit when one company handles the whole process. We take care of design and installation of plants, features, stonework, and any other design elements. This makes communication easy, and gives you greater control of the process.
Guaranteed Backyard Landscaping
We don't finalize a project until you're 100% satisfied. Your backyard can be so much more, so call (623) 780-0474 or Contact Us for backyard landscaping in Phoenix today.
Other Services Include: